A Story Well-Spun...
This is the story of my wedding blouse, a time capsule of our story. Got it made from my designer-friend Disha Patel, founder and designer at Soiree Couture. Also, is it white-and-gold or blue-and-black?
Photos by: Journeys by Ram
It was incredibly hard to write about this, so I have some photos from Journeys and a behind-the-scenes video I made to support me...
I could not possibly thank Disha enough for supporting my madness unconditionally, and Kresha Bajaj for igniting the spark.
Perhaps the only thing I was equal parts nervous and excited about throughout the planning was this blouse. But like a majority of things, I had an insane time drawing, writing, tracing, designing, and goofing with some of my favorite people. The highlight was having Kiran write the lines from when he asked me out in 2014, which, I quote him, made him feel like he should practice writing everyday (lolz)
SPECIFICS: I used the blouse that came with the white-and-gold Kanjivaram sari, and to add a contemporary touch we put 1-inch Salli fringes on the sleeve border. The front of the blouse was a snapshot from December 31, 2013 and the back, exactly 4 years later from the proposal (heeeh.) The sleeves had silhouettes of two of our favorite photos, and the bottom part of the blouse had the line written by him. The left and right side had throwbacks to the first date and first car drive (Lombard Street!)
The dupatta was supposed to look very regular with text only visible when you zoom in - just a bunch of silly references to How I Met Your Mother, Harry Potter, Star Wars, Coldplay...everything and anything that touched our lives significantly.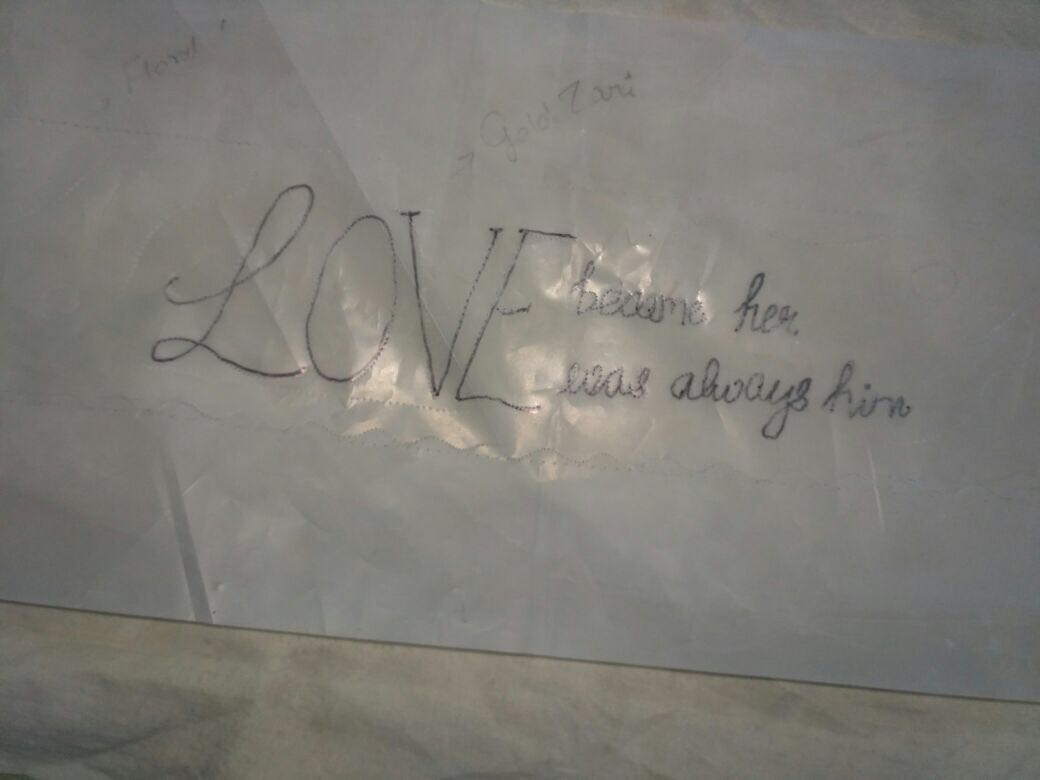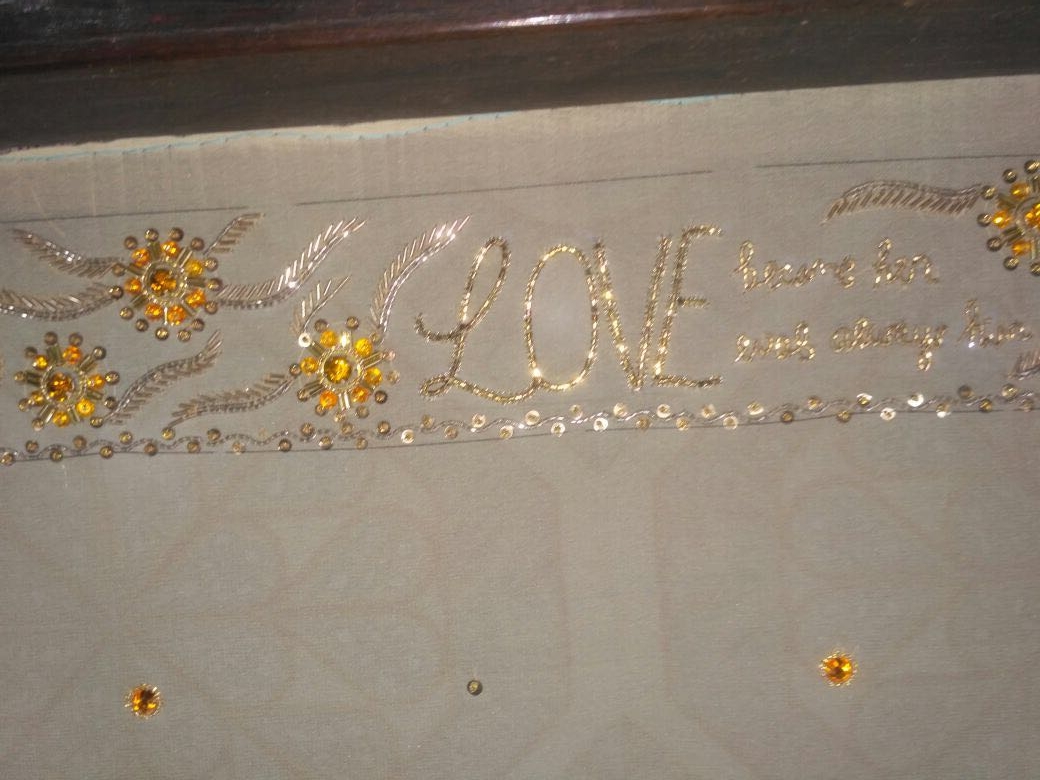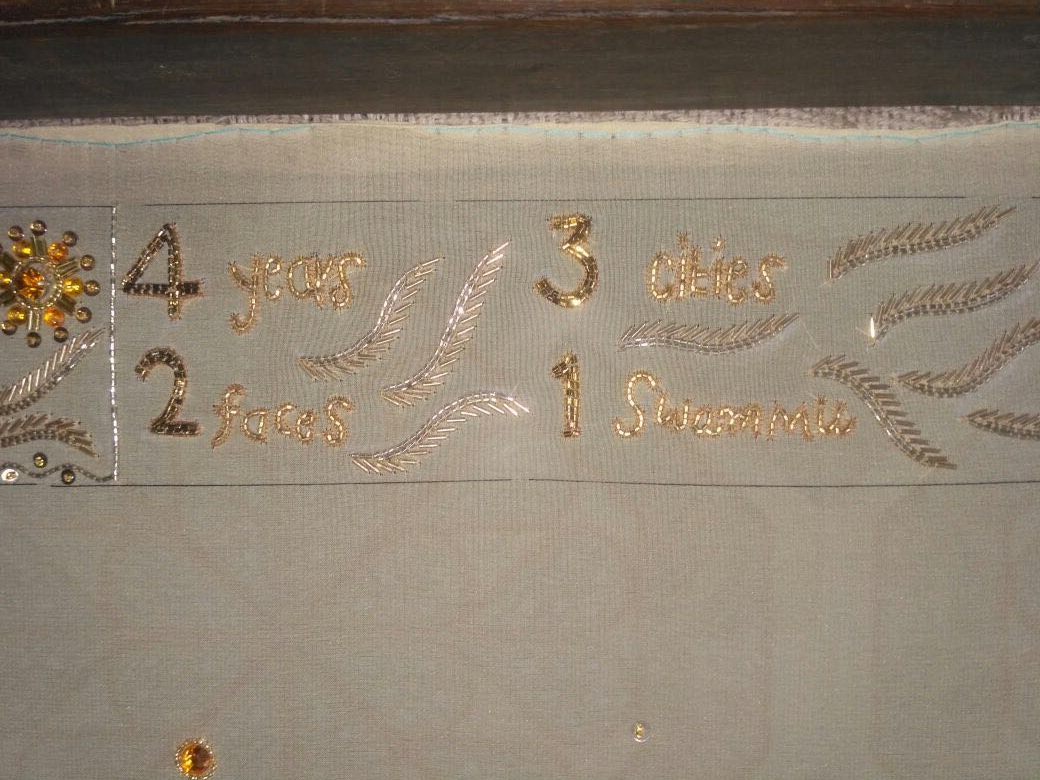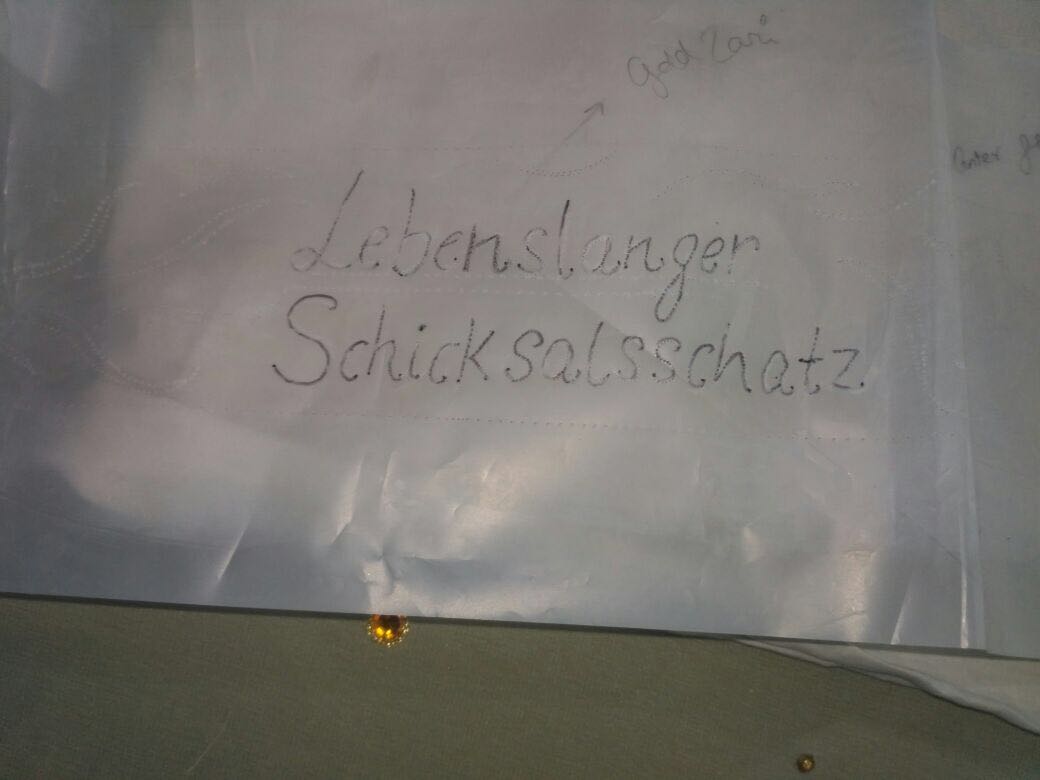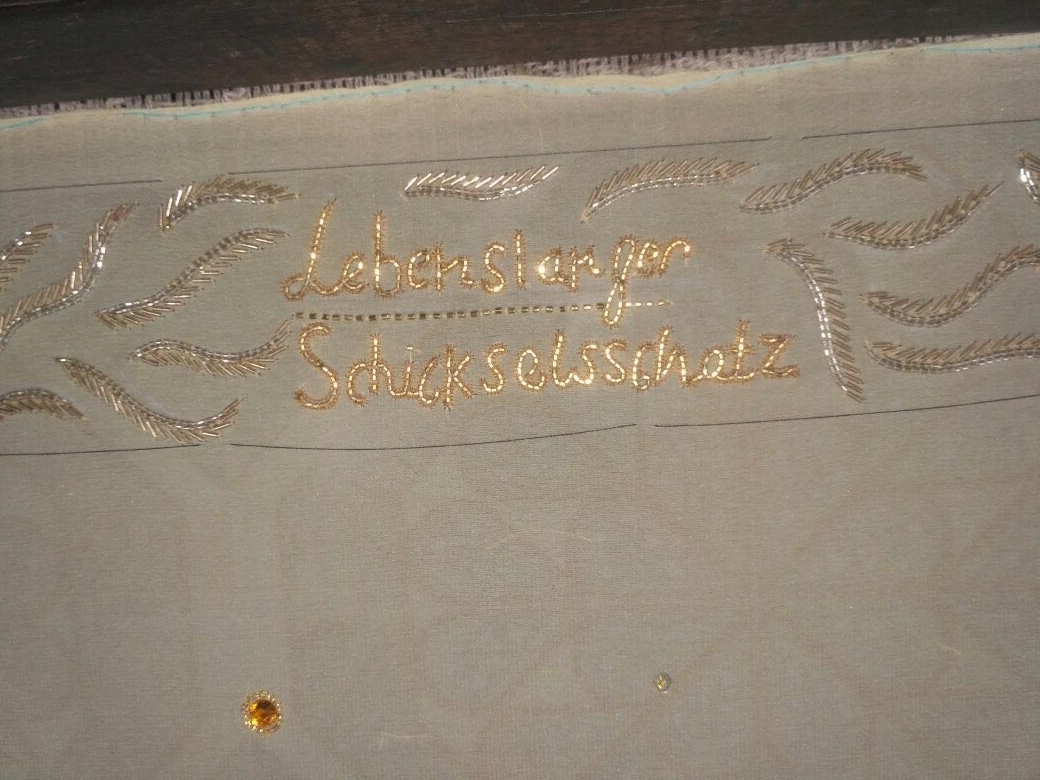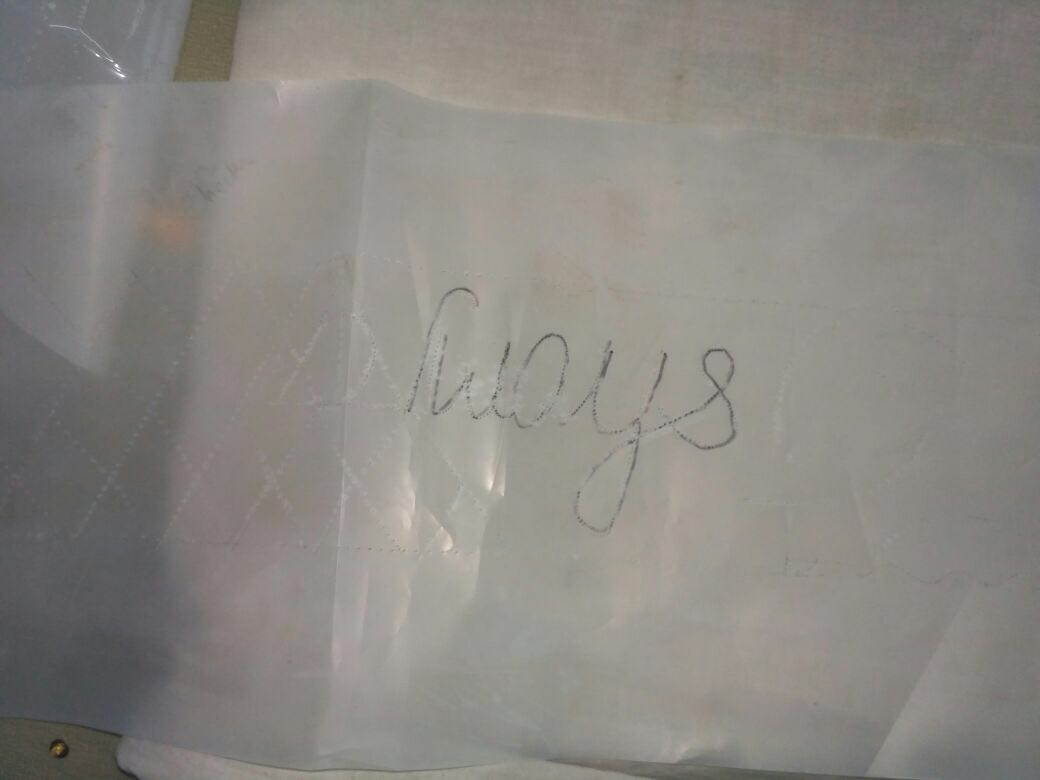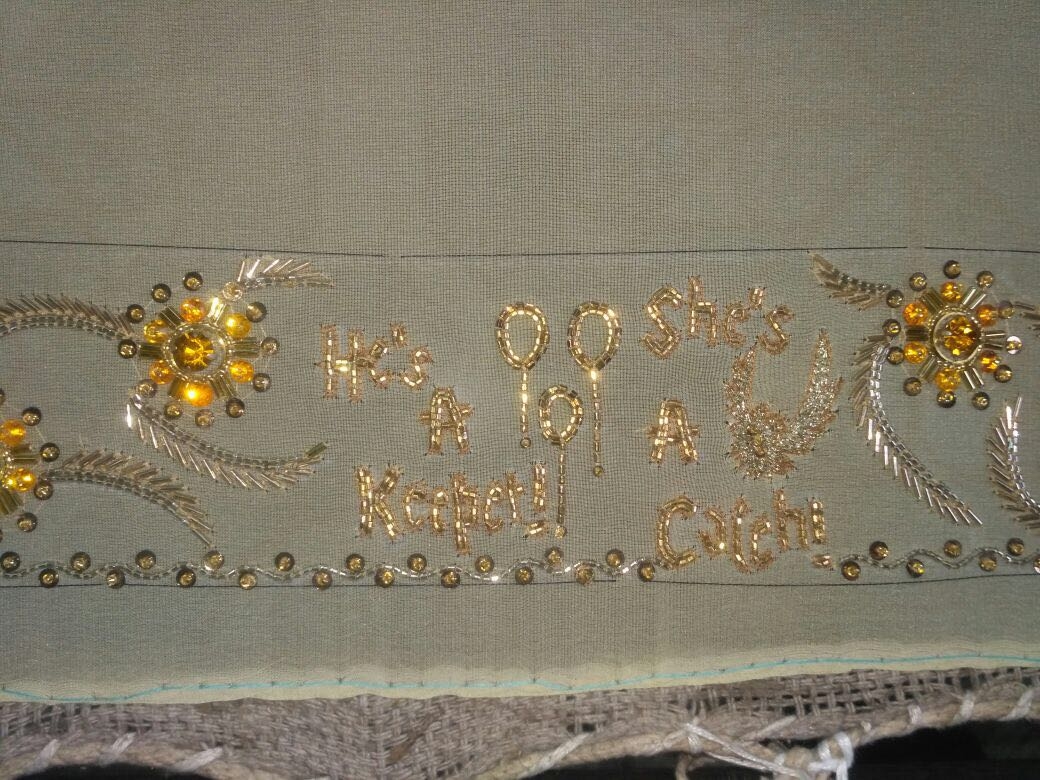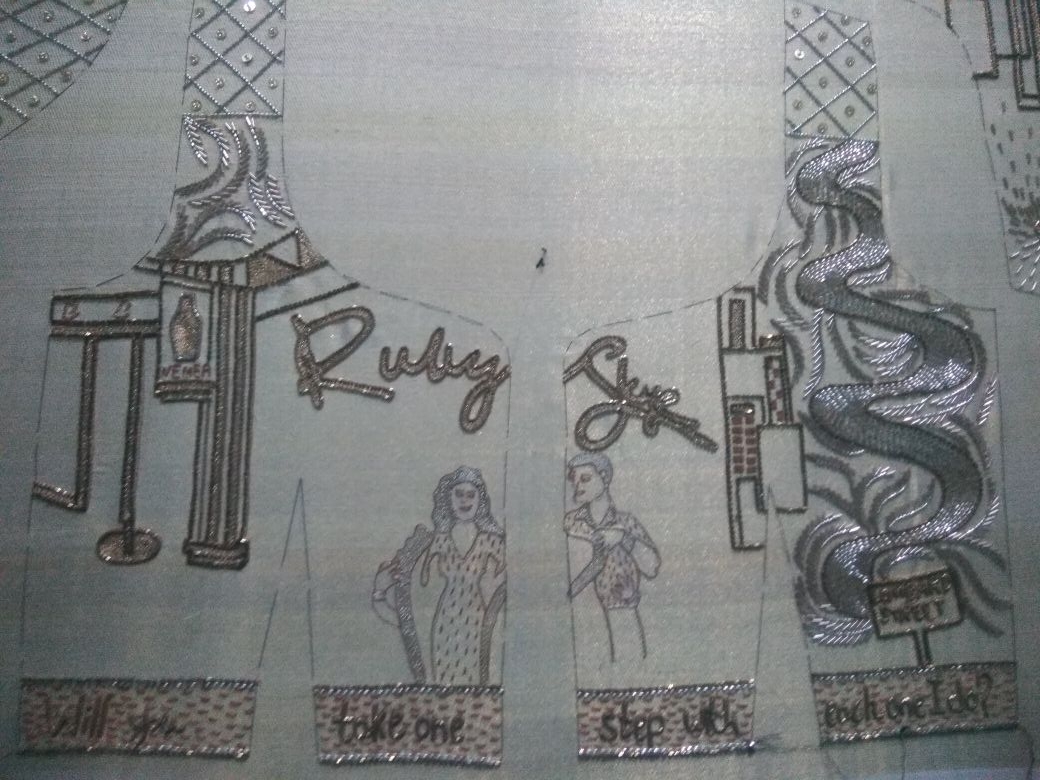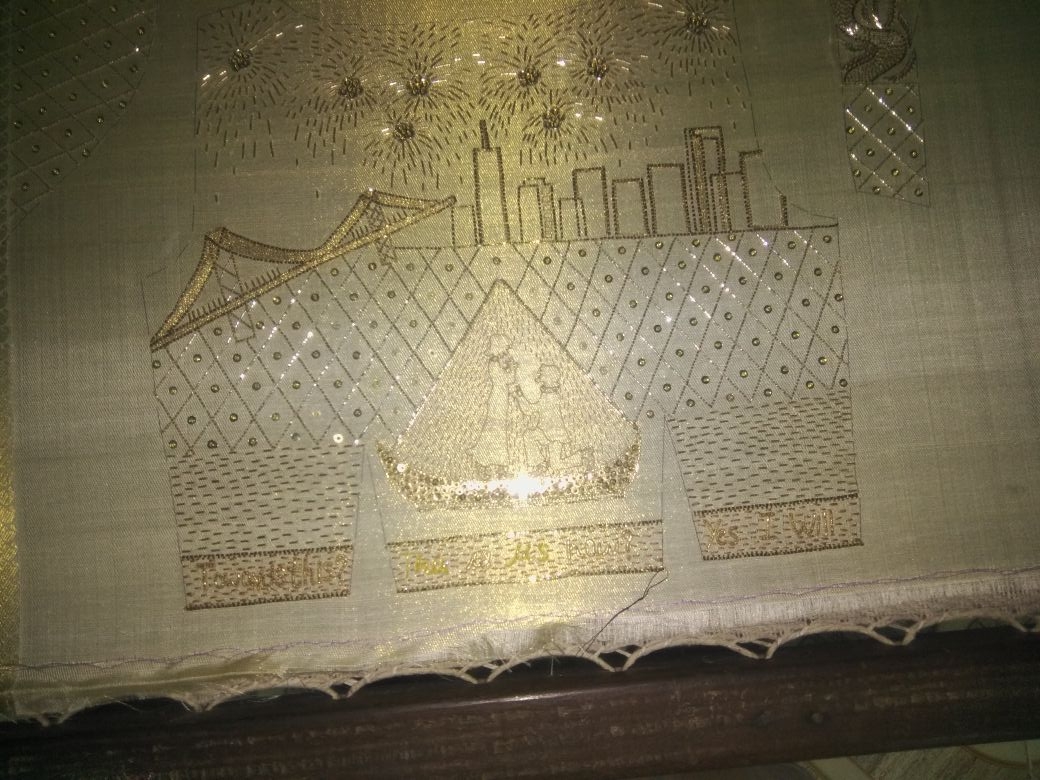 TLDR of how its made: Drawn first on tracing paper (measured and cut), which then goes under the pinning machine and "traced" onto a Khaka for embroidery, and finally finished with hand or machine embroidery. Above is a full gallery of the blouse and dupatta straight from the atelier.
This photo got 211 saves on Instagram (woot!) and I thought it would be useful to go over dos and dont's, and quick pointers if you were to embark on a hella custom blouse project!
DONT'S
• Put in too much cursive font. Big font is still fine, but small cursive is very hard to embroider
• Go too crazy with photos because its very hard to get depth on a flat garment...
• Use fabric that cannot handle that amount of detailed pinning/ needle work (I used Kanjivaram silk which, too, was very delicate and the Resham thread was borderline falling apart)
• Add too many things in the last minute. Plan well in advance (mine took 2 months) so you can go back and forth when it is being drawn
DO'S
• Write down a brief timeline (with sub-timelines) of your story and supplement them with silhouettes or photos. Silhouettes will be easier because photos have to be traced and an embroidered outline won't be as perfect
• Have rough sketches of the front, back, and sleeves after you have your measurements (so it will be scaled)
• Ask for photos/videos when it is being embroidered so you can fix things before your blouse is stitched
• Let your designer give his/ her inputs on how much of the garment to fill with story elements vs. motifs and embroidery
• Use zari for all your outlines
• Have the BEST time making the best memory and keepsake there will be!